Are Online College Courses Right for Me?
Looking for more information about online college courses before you register for one? Or do you just need to know what to do to be successful in an online course? (Then read on!)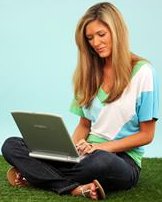 There are many great benefits to taking an online class. I really like my online classes because they give me the convenience I need to complete my classes and live my life.
But, to learn how to successfully complete online classes wasn't easy for me. I ended up getting an unofficial withdrawal from the first online class I took because I just gave up.
That is on my transcript forever now.
Don't make the same mistake. Learning how to make an online class successful is easy with a few simple steps.
---
Why take a class online?
So, why would anyone want to take a class online? Not only are they really convenient and easy to use, but (depending on your professor) you will often get class-wide online discussions and professor lectures as well.
Plus, if you are
But, isn't being in the classroom a better experience? Well, that depends.
If you're a good self-starter, good at making a schedule for yourself, and following that schedule, then online classes can be a super convenient option for you.
That being said, even if you like sitting at a desk, listening to a lecture, and having an open discussion format, you can still succeed if you decide to take online classes. You just need to devote time every week to working on the class.
Don't let anyone fool you into thinking that an online college course is a cake-walk, or that there is less work involved. Far from it!
An online class is still a class. You still have to study, do assignments, participate in class discussions, and take tests.
But that's the good news! You can still benefit just as much from online classes. Just don't take them because you think they'll be easier or require less work. You can't afford to be lazy in your school work!
---
What to know when you register
When registering for a class online, make sure that you do so as soon as you can. They are very popular among students and can fill up quickly. This is especially true for generals courses.
You can register for online college courses at the same time you register for your regular courses. Just make sure that if you want a course to be online that the location shows ONL and not a location on campus.
ONL is how my school distinguishes an online course from an on-campus class. Make sure that you check with your registrar's office or counselor at your school if you have any questions during your own registration.
Make sure to know the exact day you can start registering for classes. Getting into the right online class with the right professor is just as important as any other class. Knowing the right college courses to take a head of time can make a semester very good and doable! Making the wrong choices can make it a nightmare!
---
How to be successful in online college courses
The biggest key to being successful in an online class is to remember that it is still a class. You have to spend time studying, doing assignments, and testing just like in your other classes.
I have found it easiest to pick a day during the week to work on my online classes. This day usually corresponds to the due dates for assignments in each class.
Setting aside this time every week gives me a chance to stay caught up on the current assignments and get prepared for the upcoming assignments. You just want to make sure to give yourself an adequate amount of time to complete each assignment.
To do this effectively, at the beginning of the semester go online and open the course syllabus (the professor should have one online). Then write down in your planner or notebook every assignment and its due date.
Then, pick your day out of the week to do the work for that class. If most assignments are due on Mondays, then Friday or Saturday might be a suitable day, giving you enough time to study and do the assignments.
It really doesn't matter what day you choose. Just pick one that will allow you to keep on top of your homework. Then stick to that day! Don't procrastinate. Make a deal with yourself to stick to that day and then reward yourself after completing the work.
Falling behind in an online college course is just as bad as falling behind in a regular course.
---
"Let me sum up."
In summary, online college courses can be an awesome alternative to on-campus classes. They provide you with the flexibility you need without sacrificing the opportunity to learn.
Registering for online classes early is very important. Making the mistake of procrastinating to register can make for a "not so fun" semester. This is especially important for general education classes.
Time management is the key to success with online classes. They need just as much attention as regular classes. Pick a specific day to work on them every week. Then do it.

Do you like the idea of online college courses? Have you ever heard of independent study classes? Learn more here.

Go back to College-Student-Answers.com